Mining Cables
PRODUCTS
Mining Cables (AS_NZS Standard)
AS/NZS 2802:2000 Reeling & Trailing Cables
Type 455 3.3 to 33KV
Applications
These cables are designed with reduced insulation and sheath thickness, no cradle, 2 earth and 1 pilotcore (each earth and pilot are the same size) in the outer interstices. These cablesare suitable for reeling and trailingapplications where minimal diameter and mass is desired, particularly suited to stacker-reclaimer applications.
Standards
AS/NZS 2802:2000
AS/NZS 1125
AS/NZS 3808
AS/NZS 5000.1
Construction
3×Conductors: Flexible stranded tinned annealed copper conductor.
Conductor Screen:Polyester barrier tape and extruded semiconductive tape.
Insulation: EPR.
Insulation Screen:Semiconductive tape.
Filler: Elastomer centre filler.
2×Interstitial Earth Conductor: CSP insulated flexible stranded tinned copper conductor.
1×Interstitial Pilot:EPR covered flexible stranded tinned copper conductor.
Textile Reinforcement: Open-weave braid reinforcement.
Sheath: Extra-heavy duty PCP sheath.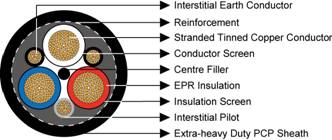 Download details in PDF

Download details in Word