Mining Cables
PRODUCTS
Mining Cables (ICEA & CSA Standard)
Mine Power Feeder Cables :
Type MP-GC Three-Conductor Mine Power Feeder Cable, CPE Jacket, 8kV
Applications :
These cables are designed for connections between units of mine distribution systems, suitable for installed in duct, conduit or open air and for direct burial in wet and dry locations.
Standards :
ICEA S-75-381/NEMA WC 58
ASTM B-8
CAN/CSA-C22.2 No.96
Construction :
Conductor Stranded annealed bare copper conductor.
Conductor Shield Conducting layer.
Insulation Ethylene Propylene Rubber (EPR).
Insulation Shield Conducting layer + copper tape.
Ground Check Conductor Copper conductor with a yellow polypropylene insulation.
Grounding Conductor Tinned copper conductor.
Jacket Chlorinated Polyethylene (CPE), black.
Options :
Other jacket materials such as CSP/PCP/NBR/PVC/TPU are available upon request.
Mechanical and Thermal Properties :
Minimum Bending Radius: 12×OD.
Maximum Conductor Operating Temperature: +90℃.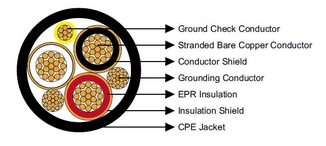 Download details in PDF

Download details in Word