Mining Cables
PRODUCTS
Mining Cables (ICEA & CSA Standard)
Mine Power Feeder Cables :
Type MP-GC Three-Conductor Mine Power Feeder Cable, PVC Jacket, 5kV
Applications :
These cables are designed for connections between units of mine distribution systems, suitable for direct burial in wet and dry locations.
Standards :
ICEA S-75-381/NEMA WC 58
ASTM B-8
CAN/CSA-C22.2 No.96
Construction :
Conductor Stranded annealed bare copper conductor.
Conductor Shield Conducting layer.
Insulation Cross-Linked Polyethylene (XLPE).
Insulation Shield Conducting layer + copper tape.
Ground Check Conductor Copper conductor with a yellow polypropylene insulation.
Grounding Conductor Tinned copper conductor.
Jacket Polyvinyl Chloride (PVC), black.
Options :
Other jacket materials such as CSP/PCP/NBR/CPE/TPU are available upon request.
Mechanical and Thermal Properties :
Minimum Bending Radius: 12×OD.
Maximum Conductor Operating Temperature: +90℃.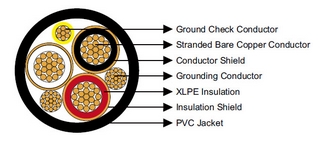 Download details in PDF

Download details in Word